Current Projects - SMARTA: Sustainable profitability project


If you would like to be informed of updates and information relating to this Marine South East project please click here and you will be sent email reminders when new information is posted on the website about this project.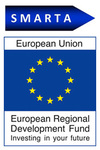 SMARTA project evaluation...
SMARTA was a project jointly funded by the Regional Development Agency and European Union Regional Development fund, which helped marine companies to achieve substantial improvements in their profitability.


Subscribe to this ongoing project

Click this icon for the RSS feed.
You can subscribe to this project either by email, or using our RSS feed. To recieve updates via email, please enter your email address here and click on the submit button. Alternatively, you can keep up to date by using an RSS feed reader program such as FeedReader and clicking on the orange RSS icon.