Solent University Future Ready Fest online Careers Days, 13th and 15th October 2020, online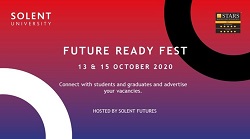 Solent University will be hosting their first online career days 'Future Ready Fest 2020' on Tuesday 13th October and Thursday 15th October 2020.
Businesses can raise the profile of their organisation to the university students and graduates and promote any career opportunities via the webpage.

Follow the link below to register your interest.

https://tinyurl.com/yyeydxsf

For any questions, please contact the university via employers@solent.ac.uk and the Employer Engagement Team will be happy to help.

Send this story to a colleague
Posted 2020-09-23 11:14:16
« Back to news

Subscribe to our monthly newsletter &nbsp&nbsp