Free event on How to access funding to upskill your existing and future workforce, Wednesday 25th April 2018, Southampton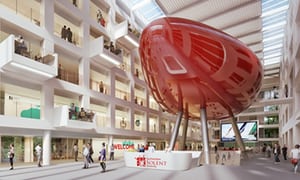 Marine South East in partnership with Southampton Solent University are hosting this free event to inform businesses on 'How to access funding to upskill existing and future workforces'. The evening will take place on Wednesday 25th April from 5.30- 7.30pm in the Spark Building at Southampton Solent University.
Marine businesses will be able to find out about all levels of the new Degree Apprenticeships which offer incredible value for money and flexibility for businesses to upskill their staff at minimal costs across a broad range of subjects.

Delegates will hear from a marine business owner who is using the scheme to upskill her own qualifications through the Business Leadership courses available at Southampton Solent University.

Degree Apprentices were launched by the Government in 2017; they allow employees to work while studying part-time for a degree and combine academic study from a traditional university degree with practical on-the-job experience and employment skills required for a successful career. Degree apprenticeships are suitable for people of all ages; you could already be in employment or just beginning your career or you could be a business looking for new skills and employees.

Southampton Solent University offers Degree Apprenticeships for aspiring new managers, experienced managers and senior leaders as well as project management, digital and technical solutions and electronic engineering.

Outline agenda (subject to change):
5.00-5.30 Registration and networking
5:30 Welcome from Tere Daly, Pro Vice Chancellor, Southampton Solent University
5:40 Jonathan Williams, CEO, Marine South East
5.50 Nicola Morgan, Director of Wilsonhalligan Ltd; student on Solent's Chartered Manager Degree Apprenticeship
6:05 Maggie Moss, Business Development Manager, Southampton Solent University
6.10 Overviews from department heads, Jonathan Ridley Head of Engineering, Gillian Saieva Head of Business, Finance and Accountancy, Jennifer Muskett Head of Computing, Caroline Barfoot Head, Employability & Student Enterprise
6:50 Port Logistics Apprenticeship; Onboard Erasmus European Project
7:00 Q&A panel session facilitated by Jonathan Williams, MSE
Open discussion on skills and training gaps in the marine sector

7:00 – 7:30 Networking

Free parking will be available onsite for all delegates after 5.00pm. Representatives from the various academic departments as well as staff who can assist with student placements, internships, and the process of applying for a Degree Apprenticeship will be on hand at the networking before and after the event to assist with any questions and queries.

To book your place at this Free event please click on the 'register' button.



Send this story to a colleague
Posted 2018-03-15 12:27:04
« Back to news

Subscribe to our monthly newsletter &nbsp&nbsp