Southampton Solent University opens new Warsash School of Maritime Science and Engineering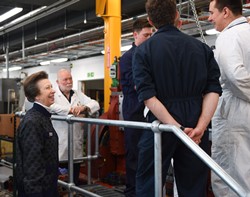 Southampton Solent University's new £6 million home for officer cadet education and training and first certification courses has been officially launched by Her Royal Highness The Princess Royal.
The Princess Royal visited Warsash School of Maritime Science and Engineering at the University's St. Mary's Campus on Thursday 18th January. Her Royal Highness unveiled a plaque inside the building, which is located within the grounds of City College and a short walk from the city centre and Solent's East Park Terrace campus.

The new premises provides cadets with a distinct and modern teaching environment, brand new engineering workshops, a welding area, electrical and control laboratories, an ECDIS simulator suite and Marine-Electro-Technical Officer (METO) workshops.

The development at St. Mary's Campus is the first phase of the University's investment into maritime education and training at Solent. It has modernised the facilities and allows the University to build on the heritage and expertise associated with Warsash Maritime Academy. Warsash has become world-renowned for providing cadet programmes and professional short courses for more than 70 years.

For more information please contact 023 8201 3040 or email mailto:news@solent.ac.uk

Warsash Maritime Academy is the commercial maritime arm of Southampton Solent University. It has provided first class education, training, consultancy and research services to the international maritime industry for over 70 years.

Warsash enrols more than 10,000 students a year and provides internationally recognised certification programmes for both navigation (deck) and engineer officers from Officer Cadet level up to Master Mariner and Chief Engineer respectively.

These programmes are approved by the UK's Maritime and Coastguard Agency (MCA). The Academy also offers a comprehensive range of mandatory and non-mandatory short safety courses to the maritime industry, developing skills such as fire-fighting and sea survival, as well as continuous professional development modules for more experienced seafarers.

Send this story to a colleague
Posted 2018-01-30 11:23:38
« Back to news

Subscribe to our monthly newsletter &nbsp&nbsp