First Rampion power is delivered to National Grid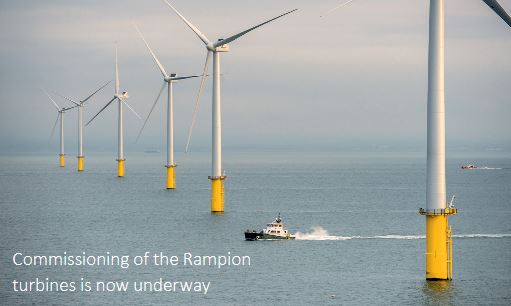 The first of Rampion Offshore Wind Farm's 116 turbines has started generating electricity, with the others set to follow as they are commissioned and turned on one by one in the coming month. Marine South East was previously involved in a number of highly successful Rampion 'Meet the Buyer' events to ensure that South East businesses maximised on the local opportunities.
The installation of all the turbines was completed in September in just six months, with the two MPI jack-up vessels - Discovery and - working around the clock to get the job done.

Recent work has also included completion of the project's electrical infrastructure, which is less visible but no less vital for the wind farm. Offshore, this meant the burial of all 144 kilometres of array cables, which connect the turbines to the offshore substation, as well as the completion of the offshore substation itself.

Onshore, all 26.8 kilometres of cables are now installed and working, and the substation at Twineham is also operating. The first power generated by Rampion was delivered to the grid on 26 November.

Teams of technicians working inside the turbines and onshore in the control rooms will continue carrying out the final work required for each turbine to start producing electricity. All turbines are due to be generating power later in 2018 when the wind farm will be fully operational.

Sussex based community groups have been invited to apply
for funding with the recently launched £3.1 million Rampion
Community Benefit Fund. The Fund is part of a £4 million
package of benefits announced in November, which also
comprised £800,000 for a Visitor Centre and an additional
£100,000 donation, spread across four Royal National Lifeboat Institution stations.

The aim of the Fund is to make a real difference to the local communities by supporting a range of projects, including those with links to environment and ecology, climate change and energy, and improved community facilities. Priority will be given to projects that benefit disadvantaged people and communities. The Fund will be managed and administered by Sussex Community Foundation, a charity with expertise and a proven track record in managing community funds in Sussex.

How to apply for funding:

The Sussex Community Foundation (SCF) will manage the
£3.1 million fund over the lifetime of the project, with grants available across the different geographical areas related to the development, construction and operation of the wind farm.

Specific details on the application criteria can be found on
http://www.sussexgiving.org.uk/rampion

while interested parties can also telephone the SCF grants team on 01273 409440.

The deadline for the first round of grant making is
Friday 12th January 2018.

Send this story to a colleague
Posted 2017-12-22 12:14:17
« Back to news

Subscribe to our monthly newsletter &nbsp&nbsp