Email News February 2019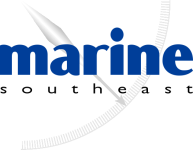 Welcome to the February 2019 Email Newsletter from Marine South East
If you would like to submit an article for consideration please email the text and a suitable image or logo to sj@mseuk.org
Posted 2019-01-09 09:49:00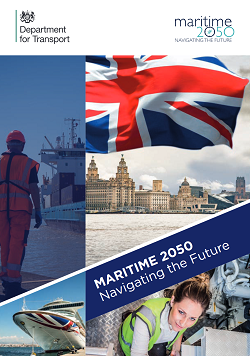 Government announces historic commitment to UK marine industry
The UK Government recently launched Maritime 2050, their first ever long-term strategy to support and grow the sector which marks a historic moment for Britain's marine sector.
The strategy sets out the government's vision and ambitions for the future of the British maritime sector. Maritime 2050 is about anticipating the challenges and opportunities ahead and recognising the UK's strengths so we are well placed to capitalise on them.

Described as both visionary and aspirational, Maritime 2050 highlights the Government's recognition of the importance of maritime - worth over £40bn to the UK economy, more than aerospace or car manufacturing - and focuses on the desire to cement the UK's place as the world's leading maritime nation into the second half of the 21st century.

The government's ambitions and goals will be achieved by focusing on seven distinct themes; Technology, Trade, Environment, People & Skills, Infrastructure, Security/Resilience and the UK's Competitive Advantage.

Short, medium and long-term recommendations are identified under each theme. Combined, these deliver a clear direction and vision for the Government and industry to work together to ensure the UK can progressively compete on the global stage in the coming decades.

Route maps covering trade and technology and innovation are published alongside the strategy. Remaining route maps will be published later in 2019.

Further information about Maritime 2050 can be found at the following link:

https://www.gov.uk/government/publications/maritime-2050-navigating-the-future
Posted 2019-01-28 12:22:39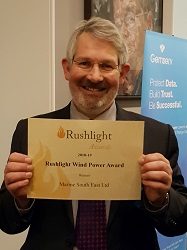 Marine South East wins Rushlight Award for work on Offshore Platforms projects
Marine South East were delighted to win the Rushlight Wind Power Award earlier this week for their work on projects to reduce the installation and operating costs of offshore platforms.
Simon Powell, Marine South East's Operations Director received the award and presented the findings of a number of projects that Marine South East has worked on to improve the financial viability of offshore platforms at sea at the Cleantech Conference. The Rushlight Show and Cleantech Conference were organished by Rushlight Events and sponsored by Innovate UK and others.

The Cleantech Conference attracted an audience of fellow innovators, funding agencies and investors. The event provided excellent exposure for the work that Marine South East has been doing through a number of projects to look at ways to reduce the costs of offshore platforms, particularly innovative anchoring and mooring solutions.

This was the 12th year of the Rushlight Awards which took place at The Royal Society in London. The awards were presented by guest of honour, Julian Critchlow, Director General Energy Transformation and Clean Growth, BEIS.

For more information about the projects that Marine South East is working on in the field of offshore platforms please visit http://www.offshoreplatforms.eu and sign up to receive updates from the Interest Group.

Posted 2019-02-01 08:53:52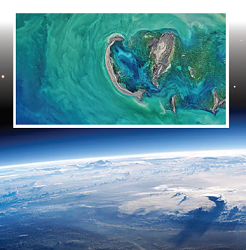 SpaceWave Alliance launched to accelerate use of Earth Observation in Blue Economy Growth
Following a successful two year collaboration of European partners, the founding members of the SpaceWave project (including Marine South East) have announced the creation of a European Strategic Cluster Partnership (ESCP) called the SpaceWave Alliance.
This new strategic partnership will act as a pilot for the acceleration of Earth Observation for Blue Growth. The SpaceWave Project has been funded by the European programme for the Competitiveness of Small and Medium-Sized Enterprises (COSME).

Since January 2018 the SpaceWave project has been identifying the current and future commercial and technological potential of Earth Observation technologies to facilitate the growth of the Blue Economy sector. Through collaborative working with cluster partners and key technology providers, the project has identified the most promising EO technologies and the most appropriate European and International stakeholders, clusters and business networks to work with in targeted countries.

The project has created a joint internationalisation strategy in order to reach Europe's full potential in downstream Earth Observation in Blue Growth.

The SpaceWave project is targeting four countries: Australia, Canada, South Africa and United Arab Emirates (UAE) and is addressing markets with high-potential such as; aquaculture, fisheries, marine renewable energies, maritime surveillance, maritime traffic, coastal protection and hazards, port infrastructures and sea level rise.

The purpose of the SpaceWave Alliance is to actively cooperate trans-nationally and trans-sectoral in order to:

* Expand access by European businesses to international customers for maritime satellite applications and Earth Observation application activities
* Engage together in a long term agenda for international Cluster cooperation and develop a joint Internationalisation Strategy Plan and Implementation Roadmap fostering complementarities between them, promoting cooperation across related industries and sectoral boundaries in support of emerging industries.
* Facilitate the transnational transfer of knowledge and technologies between Earth Observation Clusters and Blue Growth Clusters.
* Promote cutting edge technologies inside and outside Europe and facilitate their application into international markets of other sectors.
* Explore and promote international market opportunities and enable international matchmaking.
* Facilitate SME members towards specific third countries to be identified in the Internationalisation Strategy Plan.
* Mobilise public and private financing for the development of the Internationalisation Strategy Plan.
* Participate in matchmaking events in order to be informed about various EU initiatives that could provide them with additional support in addressing third markets
* Stimulate exchange of information and to develop possible collaboration and synergies with other ESCPs targeting similar third markets.
* Foster the signature of cooperation agreements and business partnership agreements as well as the emergence of cooperation projects between Clusters as well as business partners
* Contribute to the increase in the percentage of the turnover from international activities, and employment in Europe of the SMEs benefiting from the SpaceWave Alliance actions compared to a similar group of SMEs not benefiting from them

For more information visit ECCP website https://www.clustercollaboration.eu/escp-profiles/spacewave or contact the project manager Maude Perier-Camby perier@aerospace-valley.com


Posted 2019-01-15 15:16:48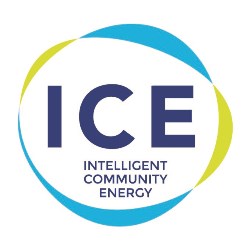 Can your business provide energy solutions for off-grid locations?
Is your business looking for new opportunities to implement smart-energy efficient solutions in isolated areas? The Intelligent Community Energy project is looking to certify businesses willing to provide energy solutions to isolated, off-grid areas.
Many islands have no connection to wider electricity distribution systems and are dependent on imported energy supplies, typically fossil fuel driven. The energy systems that isolated communities depend on tend to be less reliable, more expensive and produce more greenhouse gas (GHG) emissions than mainland grid systems.

Supported by Interreg VA France (Channel) England, the Intelligent Community Energy (ICE) project aims to design and implement innovative smart energy solutions for isolated territories of the Channel area that face unique energy challenges.

The objective is to significantly reduce the greenhouse gas (GHG) emission of the territories concerned (50 to 100% compared to a fuel-based system) and secure energy access. It will cover the entire energy cycle from production to consumption, exploit local renewable energy sources and integrate new and existing technologies currently at different levels of readiness, in order to deliver a comprehensive innovative solution.

The objectives of this Expression of Interest are first to identify businesses that can provide electricity solutions in the context of isolated grids. Companies selected will be offered an 'ICE' label that will provide them access to a specific business offer.

The expected innovations should facilitate the energy transition of isolated territories in the English-French Channel to achieve a 100% renewable energy mix by 2030, by acting on:
* The energy-demand management;
* The production of energy and the management of the grid;
* The implementation of 'Smart City' related services.

The ICE label is dedicated to businesses willing to provide energy solutions to isolated grids. This label will certify that companies have expertise in smart grids and that their solutions are suited to isolated territories and transferable.

With the ICE label, certified companies will have access to:

* Market Knowledge
* Networking and matchmaking events
* Increased market exposure
* Support to identify funding sources

Eligible businesses must be able to provide solutions or services within the framework of low carbon energy models for isolated territories.

For more information about eligibility and selection criteria please visit:

https://www.ice-interreg.eu/

Expressions of interest will be open all year with three cut-off dates on 30th April, 30th September and 31st December 2019. Businesses selected will be informed in May and October and in January 2020.

Applications can be submitted through the online form available at the following link:

https://fr.surveymonkey.com/r/VG7ZWTK

The terms and conditions of the Expression of Interest can be found at the following link:

http://www.marinesoutheast.co.uk/docs/papers/

To ask questions related to the ICE certification process please contact:

Jeremie BAZIN - Technopôle Brest-Iroise : jeremie.bazin@tech-brest-iroise.fr

Laura COTTE - Pôle Mer Bretagne Atlantique : laura.cotte@polemer-ba.com

Jonathan WILLIAMS - Marine South East: jw@mseuk.org


Posted 2019-01-16 17:31:46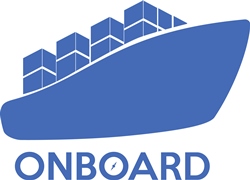 Onboard Project looking at digital skills in the ports and logistics sector recognised for good practice
The Onboard Project celebrated the first year of implementation at the end of 2018, being recognised as good practice by the EACEA - Education, Audiovisual and Culture Executive Agency of the European Commission.
The Onboard Project is a two-year EU project looking at the development of technical profiles and training curriculum for the Ports and Logistics sector.

Recognition of the project was announced during the coordinators meeting organised by the EACEA, on the 14th December 2018 in Brussels. From a total of 14 projects Onboard was identified as one of 3 which demonstrated good practice.

Since commencing in October 2017, the consortium partners from Portugal, Ireland and the UK have designed two technical profiles and joint curricula for apprenticeships in the maritime sector, specifically for Ports and Logistics. This took place following interviews with members of the sector and their responses highlighted the skills gap caused by the increasing use of IT and Data Transfer. Although modernising and changing the way the sector performs, the majority view was that a need exists to ensure staff can manage the change by having the relevant digital skills linked to a good knowledge of Ports and Logistics operations. To meet this requirement the project has developed EQF Level 4 and 5 training. These two results are available to view online at the Onboard' s website.

http://onboard-project.eu/resources-technical-profiles/

During next few months, the project partners will be preparing a set of activities involving sector stakeholders of the project, namely policy makers, apprenticeships providers, business representatives and clusters of the ports and logistics sector. One of the activities is validation at National and European levels of the technical profiles and curricula.

Commencing at the beginning of February it will continue for 4 weeks and in the UK the validation will be carried out by telephone interviews conducted by the Marine South East.

In Portugal and Ireland validation workshops will be held as follows:
* Cork, Ireland - 31st of January;
* Aveiro, Portugal - 28th of February, 10h30, at ISCIA;
* Lisbon, Portugal - 12th of March, 10h30, at Port of Lisbon (TBC).

If you are a stakeholder and would like to be involved with the validation process please email the relevant project partner (below).

During its second year, the project will be developing a course for key professionals to aid them with the planning and delivery of apprenticeship training. There will be an opportunity to participate in this in Portugal, Ireland or the United Kingdom later in 2019 if you wish to register your interest.

To accomplish these goals and strengthen the network of the Onboard project, partners are also inviting organisations, consortiums and professionals of the sector and apprenticeships' system to contribute to the project as an Associated Partner.

Onboard is a two-year project co-funded under Erasmus+ programme.

For further information on the project or to register your interest in participating please use the following links:

Portugal - Andreia Monteiro (INOVA +) andreia.monteiro@inova.business.

Ireland - Maria Looney (Halpin/NMCI)
Maria.Looney@nmci.ie

UK - David Rea (Marine South East)
dr@mseuk.org

For full details of the Onboard Project please visit

http://onboard-project.eu

Posted 2019-01-28 14:57:43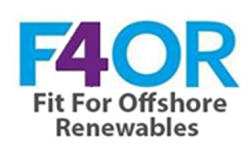 Apply for 'Fit for Offshore Renewables' to increase growth, sales and revenue
Fit for Offshore Renewables (F4OR) is a unique service helping the UK supply chain get ready to bid for work in the growing offshore renewable energy sector.
Based on the successful Fit for Nuclear programme, ORE Catapult is working with industry to increase business competitiveness, supporting continued cost reduction in the sector while securing long-term economic benefits.

Why apply for Fit for Offshore Renewables?

Fit for Offshore Renewables lets companies measure up against offshore renewable industry standards and take the steps necessary to close any gaps.

It opens the door for increased growth, more sales, and higher revenue. By embarking on this 12-18-month journey of business improvement, companies have the chance to join industry leaders in demonstrating their readiness and suitability for providing quality services to the sector.

The opportunities are enormous. The recent Offshore Wind Industry Prospectus, published in October 2018, estimates that by 2030 the sector's value to UK companies could be £30bn per year.

F4OR has already received dedicated support from large Scottish offshore wind projects such as Inch Cape, Moray West, Moray East and Seagreen, to ensure the programme continues to meet industry supply chain requirements.

How to apply

Applications for the Fit for Offshore Renewables pilot programme are open until March 2019, and companies based in Scotland are invited to submit their entry.
The subsequent full programme will be open to companies nationwide.

If you think your company is ready to win business in offshore renewable energy, follow the link below to take the first step on the journey.

https://tinyurl.com/yb3x3rnu

Posted 2019-01-22 09:11:19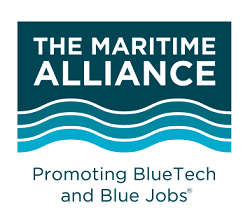 US Disruptive Technologies Laboratory: Opportunities for UK Blue Growth businesses
The Maritime Alliance, a not-for-profit maritime cluster alliance in San Diego, is working with the US Navy to help find new and innovative 'disruptive technologies' through its Disruptive Technologies Laboratory.
The U.S. Navy faces innumerable obstacles every day as it carries out its mission. To meet the challenge of combating disruptive threats and realizing ever-changing operational demands, the Department of Defense (DoD) and Navy leadership are driving the Navy laboratory infrastructure to get new and innovative technologies from external businesses into the hands of warfighters and maintainers quicker than ever.

The Disruptive Technologies Laboratory has developed a network of 200+ Department of Defense researchers/users called DTL Enterprise (DTLe) who are invited to take part in conference calls each week to present their innovative technologies.

Since mid 2018, 16 Maritime Alliance (TMA) members (including international companies) have presented to DTLe and several have had follow-on calls, meetings and have participated in events. The Maritime Alliance has agreed to organise two new presenting companies every third Wednesday in the month, starting in January 2019.

If you have a potential disruptive technology that you would like to present to the US Disruptive Technology Laboratory Enterprise network please contact Jonathan Williams at MSE on jw@mseuk.org

The Maritime Alliance is a not-for-profit cluster organizer for the San Diego maritime technology community. TMA fosters maritime business and technology innovation and has a growing number of members nationally and internationally.

For more details please visit:
https://maritimealliance.maps.arcgis.com/apps/Cascade/index.html?appid=8a667ebbcab442b5a986cb2cb7b5304f
Posted 2019-01-28 13:56:00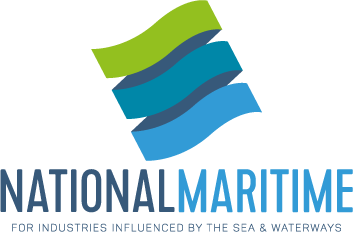 Maritime Start-Up Funding and Innovation Workshop, 21st February 2019, Maritime Greenwich
As part of the National Maritime 'Navigator' Business Support Programme delivered in partnership with the University of Greenwich, National Maritime have teamed up with the maritime matchmakers, Start-Up Wharf and Innovate UK to deliver this Maritime Start-Up Funding and Innovation Workshop.
This event is for maritime start-ups, early- stage investors, innovators and entrepreneurs. The workshop will give you access to leading experts who can help you raise start-up funding and accelerate growth.

The experts speaking at the event will also offer guidance on Innovate UK's funding competitions to test ideas and develop innovative products and services.

Workshop speakers:

Leonardo Zangrando - Founder, Start Up Wharf
Ian Stock - Knowledge Transfer Manager, Rail and Marine, The Knowledge Transfer Network (KTN) part of Innovate UK

The event will also be supported by the University of Greenwich KTP and Enterprise Development teams, with opportunities for bookable 1 to 1 sessions with all partners to discuss your specific needs.

To register your attendance please email info@nmdg.co.uk or to book online follow the link https://www.nmdg.co.uk/events/maritime-start-up-funding-innovation-workshop/

If you would like to book a 1:1 slot, there are a limited number of appointments available between 12.30pm - 13.00. Please contact L.M.Hyder@greenwich.ac.uk

Refreshments and Lunch will be provided at this event

Time:
Registration:09.00
Start:09.30
Close:13:00

Cost: £20 + vat per person

Posted 2019-01-10 14:28:43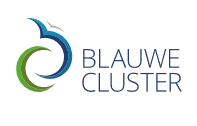 ELBE (Europe Leading Blue Energy), Getting to Market in Blue Energy Seminar, 26th February 2019, Flanders, Belgium
The goal of this seminar is to strengthen the supply chain for blue energy in Europe and to explore opportunities in growth markets around the world, with focus on wave and tidal energy.
International speakers will highlight the state of the art solutions and discuss ways to overcome the specific challenges of blue energy, by concentrating on small-scale applications, by integration in multi-use platforms and by taking into account from the start of the design relevant technical standards.

There will also be a chance for B2B networking.

The event will take place at De Meyer in Temse, close to Antwerp (B) and about 40 km from Brussels Airport.
De Meyer is a steel construction company. One of their recent projects is the development and installation of a "river in stream turbine" in a sluice within the port of Antwerp.

Jonathan Williams, CEO of Marine South East will present the ENTROPI Project at the event talking about Use-cases to reduce the costs of blue energy based on multi-use offshore platforms at sea.

The conference is free of charge to attend. For more information and to book your place please visit:

https://www.blauwecluster.be/agenda/elbe-seminar-getting-market-blue-energy
Posted 2019-01-14 17:44:34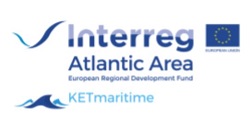 Find out about Key Enabling Technologies to drive innovation and competitiveness in your business, 9th April 2019, Ocean Business, Southampton
Marine South East will be hosting a workshop looking at how a number of Key Enabling Technologies are driving innovation and competitiveness in the maritime sector at Ocean Business on Tuesday 9th April 2019 from 10am to 12 noon.
Marine South East is a partner in a European project called KETMaritime and will be presenting information and case studies on key technologies such as micro and nanoelectronics, nanotechnology, industrial biotechnology, advanced materials, photonics and advanced manufacturing technologies all of which can assist maritime companies bring new processes, products and services to market.

The workshop will include discussion of the case studies to enable firms to understand how some of these technologies could directly assist their business. The event would be of interest to both SMEs and larger companies who are interesting in learning about Key Enabling Technologies that could transform their business.

For more information about the KETmaritime project please visit http://ketmaritime.eu

To reserve your place at this free event please click on the registration button below. Please note you will also need to register to attend the Ocean Business Exhibition and Conference at

https://www.oceanbusiness.com

The event will take place on Tuesday 9th April 2019 from 10am to 12noon in conference room 344/32 (level4) at Ocean Business which takes place at the National Oceanography Centre in Southampton.
Posted 2019-01-31 14:56:38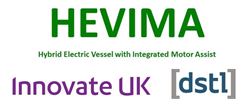 Save the Date: Demonstration of Hybrid Electric Propulsion System for Small Vessels, 22nd May 2019, Falmouth
The HEVIMA Innovate UK Project, led by REAPsystems, will be demonstrating its innovative modular hybrid propulsion at an event in Falmouth on Wednesday 22nd May 2019.
The event, which is free to attend, will enable interested parties to see the hybrid propulsion system in use on the working passenger ferry Kingsley II. Participants will learn about the benefits and opportunities this technology can offer through the technical presentations and there will be an opportunity to network with the HEVIMA project team.

The event is taking place on Wednesday 22nd May 2019, 10.00-15.00 at the National Maritime Museum, Falmouth.

HEVIMA is co-funded through the Government's modern industrial strategy by Innovate UK, part of UK Research and Innovation and the Defence Science and Technology Laboratory. The project which is lead by REAPsystems has developed an innovative hybrid propulsion system that will potentially offer significant savings in fuel, engine power rating, weight, emissions, as well as reduced noise and vibration for commercial vessels up to 250kw.

The HEVIMA partners are:

* REAPsystems Project Lead
* Devonport Royal Dockyard (part of Babcock International)
* Cornwall Ferries Ltd
* University of Southampton
* Mainstay Marine Solutions Ltd
* Lloyds Register Marine
* Marine South East

Reserve your place now by clicking on the button.


Posted 2019-01-18 14:05:27