Headlines

Discover opportunities and emerging trends at the Seawork Conference ...
Seawork International will reopen its doors Tuesday 14th June, with a busy conference schedule bringing together hundreds of key professionals from all aspects of the commercial marine sector.
Posted 2017-06-02 12:23:59

Design Foundations funding round 2 now open for applications...
Innovate UK is to invest up to £1 million in early-stage, human-centred design projects. These projects will help businesses identify high-value innovation opportunities and generate ideas for new products, services or business models that align with customer demand.
Posted 2017-06-02 12:15:24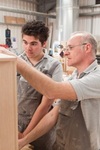 New guidance published to help employers recruit more apprentices...
New apprenticeship funding rules and management processes are being introduced for new apprenticeships starting from May 2017. To help employers, the Government has produced a range of guides to help them fully understand the new rules and processes.
Posted 2017-05-02 08:56:35