Headlines

Sign up to receive updates on marine business opportunities surrounding Multi-Use Platforms at Sea...
In the coming years, the world's oceans will see a growing development of marine infrastructures including offshore wind farms, marine aquaculture farms and offshore ports. These will provide business opportunities for a wide variety of marine businesses from designers, boat builders, marine service companies and aquaculture businesses.
Posted 2018-08-22 12:37:13

New Marine Technologies qualifications available from September ...
Bournemouth and Poole College in collaboration with Bournemouth University have announced the development of a new part time Level 4/5 Engineering Higher Education Programme, which will be available from September 2019.
Posted 2018-11-27 13:41:13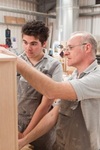 Have your say in what the skills shortages are in the marine industry before 6th January 2019...
The UK marine industry has long dealt with a wide range of skills shortages. And over the years many marine member companies have been unable to fill roles because they don't feature on the Government's Shortage Occupation List (SOL).
Posted 2018-11-21 21:48:55