Get Set for Workboat 2020, Re-engining and re-fitting the fleet, 8th December 2020, online at 10.00am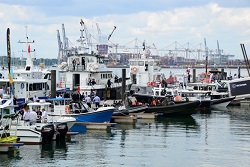 The Commercial Marine Network, in partnership with Seawork and Maritime Journal, are hosting 'Get set for Workboat 2050'. An online conference series of expert panels navigating the waters of decarbonisation compliance in the workboat industry. Looking at cost effective solutions to help businesses tackle the challenges brought about by regulatory change.
The second session, 'Reengining & re-fitting the fleet; improved technologies for engine efficiency to decrease emissions including Tier III diesel' will take place online on 8th December 2020 at 10.00am.

For more information and to register for your free place please visit:

https://www.maritimejournal.com/news101/amplify/get-set-for-workboat-2050

Image courtesy of Seawork.

Posted 2020-11-09 10:52:46
« Back