IMarEST Annual Dinner, 20th March 2020, London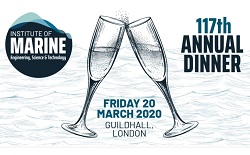 The IMarEST Annual Dinner is the Institute's flagship event, bringing together over 400 industry leaders and marine professionals from across the sector.
As a learned society at the forefront of new research, the Institute is at the centre of marine knowledge creation and exchange around the world. Our members are experts and prominent leaders within the fields of marine engineering, marine science and marine technology. This dinner is a highly anticipated occasion for members and guests to see old friends and colleagues and to make new connections.

Having been an Institute tradition for over a century, this dinner is a hugely prestigious event within the marine community. You will enjoy good food and wine, hear a captivating after-dinner speaker and more importantly, you will have the opportunity to socialise with some of the most fascinating people in the industry.

For more information including booking details and sponsorship opportunities please visit:

https://www.imarest.org/events/category/categories/imarest-event/imarest-117th-annual-dinner-2020

The 2020 Annual Dinner will take place on Friday 20th March 2020 at the Guildhall, London.


Posted 2019-11-18 14:40:29
« Back