Gosport Enterprise Fair 2019, 20th November 2019, Gosport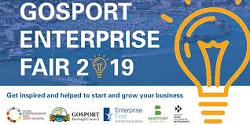 Get inspiration, advice and support for Gosport Businesses at the Gosport Enterprise Fair taking place 20th November 2019.


Local business owners will share their entrepreneurial journeys and tips for success.

Business support and funding organisations networking exhibition.

The event is taking place Wednesday 20th November 2019, 1.30-4.30pm at Jervis Gallery, St Vincent College, Gosport. The event is free to attend and there is free parking.

Visit https://www.eventbrite.co.uk/e/gosport-enterprise-fair-2019-tickets-75303700395 to register to attend.


Posted 2019-11-08 15:18:18
« Back